Pam Atkinson's Commitment to Excellence
My mission is to empower women to confidently make informed financial decisions by taking the time to understand their dreams, goals and concerns; to clearly explain their options and translate their vision into a dynamic, customized plan that continues to address their changing needs.
As an accomplished, hard-working businesswoman myself, I understand the additional challenges we women face as we balance the demands of our myriad roles in an attempt to have it all.
I get it.
Unfortunately, all too often, in an attempt to lighten their load, women allow financial planning to fall to the bottom of the to-do list. Sometimes they delegate financial planning to their spouses, partners or significant others, thereby robbing themselves of the opportunity to weigh in on the important decisions affecting their lives. I have also observed that, like me, women are planners who have been turned off by the transactional approach, which is pervasive in an industry dominated by men.
These realizations inspired me to create a comprehensive financial planning practice, devoted to a select group of women executives, focused on providing concierge services that go beyond asset management. I want to ensure women are visionaries, not the victims of financial neglect.
You take care of so many things. Let me take care of you.
---
Recent Events
As part of our ongoing dedication to providing informative resources to our clients, we recently hosted a lunch seminar featuring a reverse mortgage expert, who shared insights about how this financial tool can enhance the options available to retirees and soon-to-be retirees.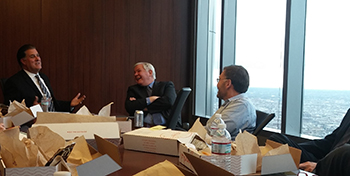 The Northwestern Mutual Difference
We make plans for people, not just money. So no matter your goals, we have access to top rated products and services to help you meet each one.
Best Life Insurance Company ranked by NerdWallet, April 2019 1
Highest financial strength ratings of any life insurer from all four major rating agencies2
Top 10 U.S. Independent Investment Broker-Dealers3
1 ©2017-2019 and TM, NerdWallet, Inc. All Rights Reserved.

2 A.M. Best Company, A++ (highest), May 2019; Fitch Ratings, AAA (highest), May 2019; Moody's Investors Service, Aaa (highest), September 2018; S&P Global Ratings, AA+ (second highest), June 2019. Third-party ratings are subject to change. Ratings are for The Northwestern Mutual Life Insurance Company and Northwestern Long Term Care Insurance Company.

3 Measured by 2018 total revenues. Ranking for Northwestern Mutual Investment Services, LLC. Sources: Financial Advisor magazine and Investment News, May 2019.